Return to Lake Tawakoni Spectacular!
September 19, 2007
On September 19th I returned to Lake Tawakoni State Park. I left the next day, 30 hours later, and I spent half of those 30 hours watching the spiders. There seemed to be far fewer long-jawed orbweavers on this visit, but it hadn't rained in a while, and the web they built was spectacular. The rotting gobs of web had virtually disappeared, and pristine sheets again draped the trees and crossed the sky.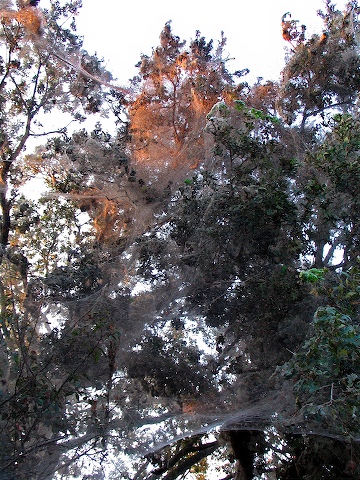 Check out these gorgeous sights too:
At dusk and again at dawn, adult midges emerged from the lakes by the thousands or perhaps even by the millions. Dusk is when the spiders get busy again. But it wasn't just the long-jawed orbweavers. Many regular orbweaers (Araneids) seemed to come out of nowhere and plastered the surface of the trees with orb webs. The female long-jawed orbweavers got busy making webs, while the males got busy looking for females. As Hank Guarisco had reported, the males were travelling, laying web everywhere they went.
I saw several sheets formed, including the entire process for one sheet. I saw how the male and females interacted with members of their own sex and with members of the opposite sex. I saw how the long-jawed spiders interacted with other species of spiders and how the male orbweavers (Araneids) seemed to travel clumsily over the massive webbing while the male long-jawed spiders raced over the web with ease. I saw strange plummeting behavior where spiders would suddenly drop to the ground (or to my person), only to go back up again. I even saw a showdown between male jumping spiders and got it all on video.
And I got a lot on video this time around, virtually all of it useable. I think you'll find my video skills improving. Have a look at this sampler:
The amount there was to see was a bit overwhelming. I can't cover it all here. You might read the September 19th trip report I posted to TX-ENTO for some of the details. But I'll be sharing as much as I can over in subsequent posts over the following weeks. New webs emerged at Wind Point Park on the north shore of Lake Tawakoni, and another smaller web emerged on Lake Travis. I visited Wind Point Park a few times and have spent countless hours investigating a small version of the web on Starnes Island in Lake Travis. There is much to share.