Web reported at Arkansas Bend Park
October 18, 2007
On October 17th I returned to REI to get a night safety light for my kayak, and again I spoke with the ever-helpful Mary. Mary described to me a large spider web she saw at another location on Lake Travis. I grilled her with questions, but she knew exactly what she was talking about. There was indeed another communal web of long-jawed orbweavers in the Austin area. When I told her that this was only the fourth reported web this year, she was surprised and asked me to call it Mary's Web. So I'm going to tell you about Mary's Web.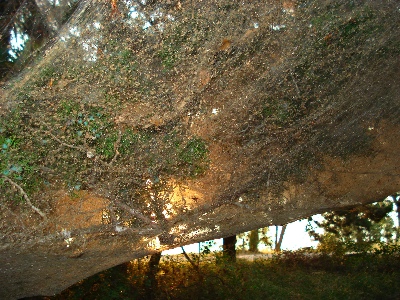 Mary's Web is in Arkansas Bend Park near Lago Vista. The park contains several long points projecting into the lake, and the web is nearly at the end of one of the points. The web is more impressive to look at than the one at Starnes Island, but it is no where near the size of the webs found at Lake Tawakoni. It does make for some nice photos though.
I finally got to see a mantispid too, and I managed to get a relatively decent photograph of it. Check out the yellow photo above. A mantispid is related to lacewings and antlions, but it is a parisite on spiders. A mantispid larva hitch-hikes on spiders until the spider makes its egg sac. At that point it shimmies off the spider and into the egg sac. It eats the eggs as it grows and ultimately emerges as this amazing critter. I looks like a praying mantis with see-through wings, but it was only about an inch long. Hank Guarisco reported seeing several of these at Lake Tawakoni State Park in early September, including several parasitized egg sacs.
When I told one of the park attendants about the web, he told me that they already knew about it but that they were keeping it secret to keep visitors from mobbing them. He said that park management probably didn't even know about the web and suggested I talk to management before making it public. I spoke with a regional supervisor, and he eagerly gave me permission, so here you go. (But a subsequent massive downpour may have largely wrecked the web—I need to go check.) I also had permission to inform KXAN, a TV station that had interviewed me earlier in the week, but they didn't think the web was big enough to make much of a story.