Same spider on all the giant webs
November 9, 2007
With permission from Travis County to collect spiders from Arkansas Bend Park, and with Hank Guarisco's help, I was able to identify the species of spiders making the giant webs at both Arkansas Bend Park and Starnes Island. At both locations it was the Guatemalan Long-jawed spider, Tetragnatha guatemalensis. I don't know whether Hank collected any spiders from Wind Point Park, but we now have confirmation that the same species of spider made the webs at Lake Tawakoni State Park, Starnes Island, and Arkansas Bend Park.
Get a good, close look at this beast. Here is a male Guatemalan Long-jawed spider, fresh from Arkansas Bend Park: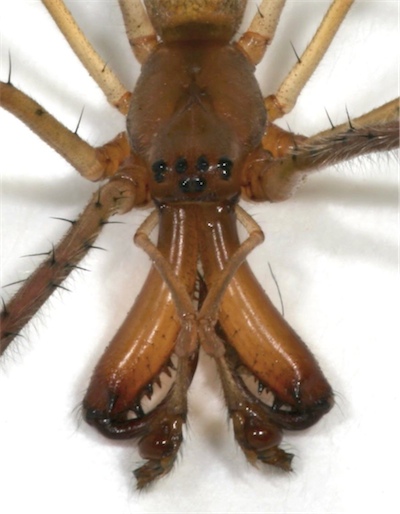 You can see why Long-jawed Orbweavers (family Tetragnathidae) are called "long-jawed." Scientists call those "jaws" chelicerae. Guatemalan Long-jawed spiders have many teeth along the lengths of the chelicerae. The fat tubes that curl back from the ends of the chelicerae are the fangs. The spider uses the fangs like a lower-jaw, crushing prey against the teeth of the chelicerae before slurping up the remains. Those long, thin arms resting on the chelicerae are the spider's pedipalps. Adult males have bulbs (or palps) at the ends of these arms, as if they were wearing boxing gloves.
Here's a full overhead view of an adult male. With legs fully outstretched, it is just over 2-inches long. Body length, including chelicerae, is 1/2 inch.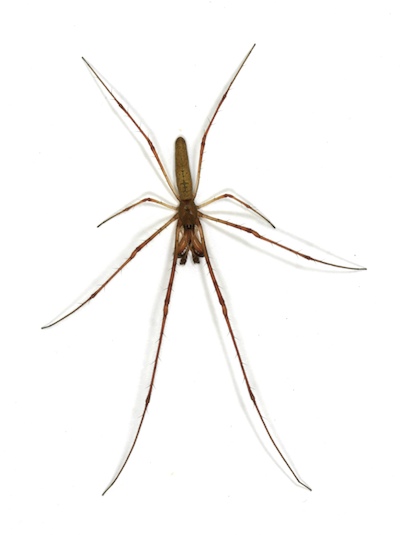 And here's a full overhead view of an adult female. It has the same dimensions as the male, with its body a bit longer but its jaws a bit shorter: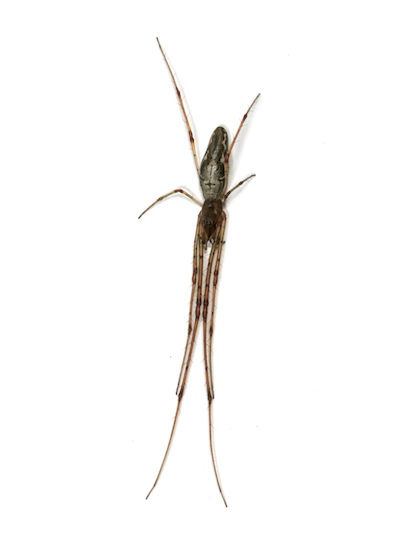 The male and female are taking different poses here, but either sex can take either pose. The second pose inclines some people to call these spiders "stretch spiders," as if the spider were doing yoga. I suspect this is camouflage to make the spider look like a stick. Many kinds of long-jawed spiders (Tetragnathids) assume this pose.
While collecting spiders with Hank, Hank made it clear that you can't tell these spiders just by looking at them with the naked eye. We found a male long-jawed spider that was not a Guatemalan Long-jaw, even though to me it looked the same. You have to use a microscope to see the difference. One of the crucial differences is just barely visible in my photograph, here enlarged: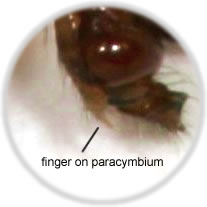 There is a structure on the male palp called a paracymbium. Guatemalan Long-jawed spiders have a pointy "finger" on the end of the paracymbium. The finger is just barely visible in this photograph.